Watch True Grit
---
"Punishment Comes One Way or Another."
True Grit, originally a novel, was done as a film before the 2010 version with Josh Brolin and Jeff Bridges as Tom Chaney and Rooster Cogburn respectively. The film opens up with 14 year old Mattie Ross (Hailee Steinfeld) explaining how her father was killed by a hired hand while she's collecting his body. Young, angry and hungry for revenge, Mattie wants the killer, Tom Chaney, caught. But the town authorities won't chase him into Indian Country. So she seeks out renegade Rooster Cogburn, who tends to shoot first and ask any important questions later. It also turns out that a Texas Ranger named LaBeouf (Matt Damon) wants Chaney for a separate crime. Both men try to put Mattie off, but she is insistent and refuses to back away.
As they go on down the trail Godburn and LaBeouf argue, and go their separate ways. Cogburn and Mattie are directed by a man they meet on the road towards an old dugout used by travelers for shelter. When they get there two outlaws have already taken up residence. While they're being interrogated one man is fatally stabbed by the other, the stabber shot dead by Cogburn. They find out that the gang they want with Chaney is returning that night. LaBeouf returns, is taken hostage, but during the shootout Cogburn gets most of the bandits.
After LaBeouf and Cogburn argue and go their separate ways again, Mattie discovers Chaney while getting water. She shoots him, but is taken hostage. Cogburn backs off, and Mattie is left with Chaney to be watched by his small gang's boss. LaBeouf knocks Chaney out, and they watch as, below, Cogburn faces off with half a dozen men. Chaney wakes up and knocks out LaBeouf, and Mattie shoots him, knocking herself into a rattlesnake hole. Poisoned, she lives, but loses the arm she was bit on. The film ends with Mattie looking for Rooster as a woman, finding he's died.
|
2010
|
1 hr 51 min
|

/

10
Cast

Studio

Director

Joel Coen, Ethan Coen

Language

English
True Grit News
The Coen Bros. Television Hour?
October 05, 2011 @ 12:48 pm PST
|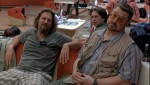 The writer/director team who brought you "No Country for Old Men" and "The Big Lebowski" are about to bring their legendary talents to the small screen. Joel and Ethan Coen, aka The Coen Bros., have reportedly signed on with Fox to do an hour long show about a grumpy Los Angeles detective.
Read More

The Dude Composes: Jeff Bridges to Release Solo Album
April 19, 2011 @ 10:54 am PST
|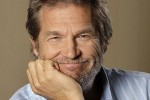 Is Jeff Bridges taking a tip from Gwyneth Paltrow? According to Hollywood Reporter, Bridges is planning on recording a solo album with Blue Note Records, a division of EMI.
Just as Paltrow got a deal for her solo album after performing in "Country Strong" (and "Glee" of course), it seems that the record deal for Bridges stems from his appearance in "Crazy Heart" a couple of years ago, in which he played a washed-up country singer on a comeback.
Read More

Spider-Man Musical Does Someone Some Good - Playwright Lands 'Glee' Gig and 'Carrie' Remake
May 20, 2011 @ 5:00 am PST
|
Roberto Aguirre-Sacasa, the playwright they brought in to fix the 'Spider-Man' musical, has now landed a regular writing job on "Glee" (which he'll also co-produce) and will also take on the task of remaking Brian De Palma's "Carrie." It's like a one-two punch of high school surreality.
Read More

First Photo: Will Smith and Josh Brolin on 'Men in Black III' Set
April 12, 2011 @ 4:44 pm PST
|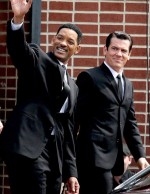 The "Men in Black" are back!
The Daily Mail has just released the first set photo from the third film in the "Men in Black" franchise, taken in the Bronx, NY.
The photo shows Will Smith reprising his role as Agent J and a very dapper John Brolin ("True Grit") playing a young Agent K.
Never fear, the original Agent K, Tommy Lee Jones, is still very much a part of the next installment, but "Men in Black III" will feature some element of time travel.
Read More


Watch True Grit Trailer

True Grit [Trailer 1] [HD] 2010|1:16

Watch True Grit Online - Watch online anytime anywhere: Stream, Buy, Rent
True Grit is currently available to watch and stream, buy, rent on demand at Google Play, iTunes online.